As the winter months draw near and the cooler weather sets in, it is essential to maintain a healthy,well-functioning immune system. There are many ways you can boost your immunity, one of the most important factors to consider is regular exercise. While it is tempting to hibernate throughout the chilly season, maintaining your regular exercise routine poses a wide range of benefits that can keep you healthy throughout the year. Current research has shown that: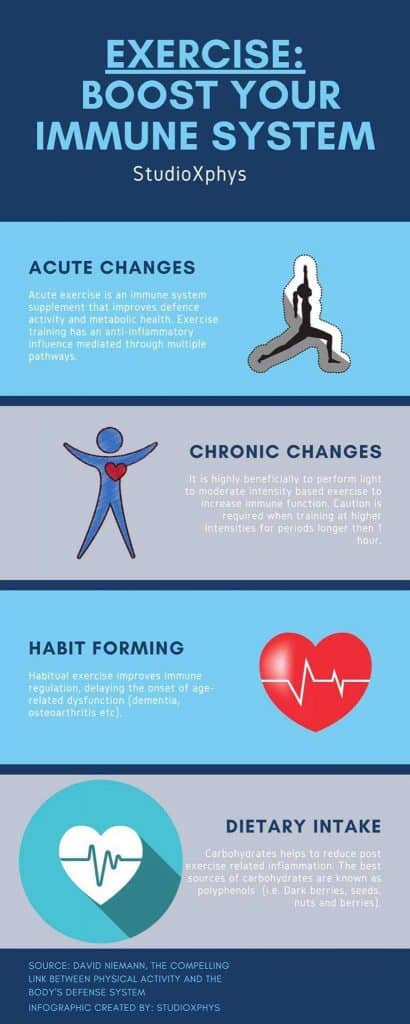 ●There is an inverse relationship between regular moderate exercise (approximately 60 minutes) and illness risk, meaning that the more regularly you exercise, the lower your illness risk becomes
●Regular exercise improves immunosurveillance, so your body can more effectively track down and fight bugs
●Regular physical activity reduces systemic inflammation – a strong contributor to a variety of illnesses – which decreases the overall likelihood of getting sick
●Physical activity slows and decreases the effects of aging on immune system function, which is especially important for those aged 65 and above
●Exercise contributes to the maintenance of a healthy body weight which also decreases illness risk
Everyone should be aiming to achieve 150 minutes per week of moderate-level physical activity, and there are plenty of options for staying fit and healthy that you can do from home, either alone or with a partner.
Remember that getting adequate sleep and eating a healthy, well-balanced diet is also key to maintaining a healthy immune system. For tailored advice on keeping yourself healthy over Winter, whether in-studio or at home, speak to one of our Accredited Exercise Physiologists today.